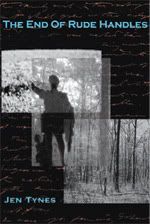 The End Of Rude Handles can now by ordered online, via credit, debit, paypal, etc. About it, the good fellows at Red Morning Press say:
A book-length sequence that draws together lyric, collage and essay elements, 'The End Of Rude Handles' explores landscape and the landscape of language with curiosity and tenderness. Jen Tynes' distinctively handmade poems are at the same time intellectual and playful, elusive and inviting: "When I speak of you some object is / also formed in light of that. // I enfold the brimming object to you."
You should probably go pick up your copy right now.